About tc_client
tc_client is no longer actively being developed by the original author. Support for Tinychat's new HTML5 (websockets and json) protocol is available but limited to text chat. Feel free to take over development.



tc_client is an alternative client for the tinychat(.com) channels.
tc_client is written in C and currently only depends on libcurl and a libc which provides poll().
No flash required.

tc_client comes with a few utilities which run on top of the core application (type 'make utils' to build them):

tc_client-gtk - a gtk+ based GUI which handles cam streams (both incoming and outgoing) and with options to play youtube videos and notification sounds.
cursedchat - a "TUI" curses interface.
camviewer
modbot - manages a queue of requested videos and plays videos that have been approved by mods.
irchack - lets you interface with tinychat through an IRC client.
Screenshots
tc_client-gtk: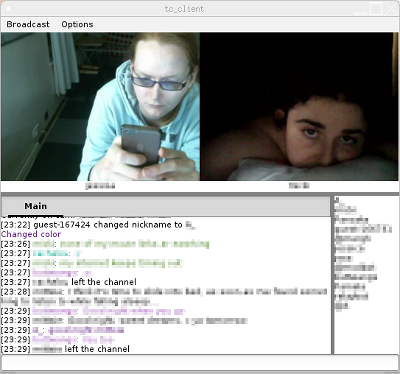 Plain tc_client (not recommended, the interface utilities provide a better experience):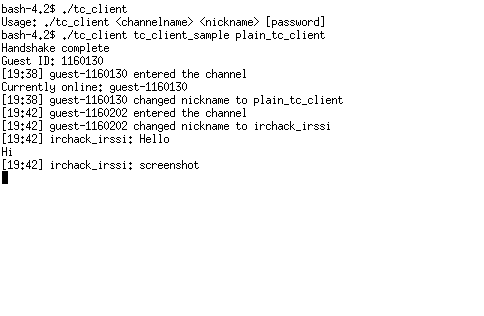 tc_client used from the IRC client irssi, using the irchack utility: